Both "counsellor" and "therapist" are commonly used interchangeably. However, in practice, the two professions are distinct.
Differences Can Be Traced Back to Various Educational, Training, and Certification Requirements
Both counsellors and therapists assist their clients in overcoming emotional and psychological obstacles. Some important distinctions between the two are:
Qualifications needed for a degree
Certifications and licences for certain types of education and oversight
The primary consideration is finding a mental health practitioner whose care is a suitable match for your objectives. Find someone you can easily communicate with as well. There are also logistical concerns, such as how much a treatment would cost, whether or not it will be covered by insurance, and how many sessions will be required. Find the proper treatment programme by learning the distinctions between counsellors and therapists.
In What Ways Do Counselling and Therapy Differ From One Another?
Sometimes people who work in mental health will use the phrases "counsellor" or "therapist" interchangeably. Without meaning to, you might alternate between the two words from time to time. Counsellors and therapists are sometimes used interchangeably, but they describe two distinct types of mental health specialists. Despite the possible overlap in interests and expertise, their education and certification requirements are different. Finding the right professional who offers services that fit your unique needs is paramount when deciding between the two for your psychological therapy.
You should only consult a certified therapist or counsellor for help. While life coaching may have some similarities to talking to a therapist, it is not a formally recognised helping profession. There are no formal educational prerequisites for being a life coach, unlike the case with licensed counsellors and therapists.
Psychological Therapies
Experts in mental health counselling have been trained to look at the whole picture. The method takes into consideration you as a whole person. Counsellors with advanced degrees in clinical mental health also use a strengths-based perspective. This means that care is tailored to your particular set of skills and strengths. It has been observed that therapy tends to concentrate on achieving specific outcomes. Counselling can be useful for achieving personal, professional, or academic objectives.
Aspects of treatment include:
Therapy for individuals, couples, families, and groups
Problems in marriage or other relationships
Drug abuse or alcoholism
Issues with rage, depression, and loss/grief
Anxiety
Depression
Complex problems, including post-traumatic stress disorder and drug abuse
A counsellor's attention is typically directed toward the current issues that are having an impact on the client's emotional and psychological well-being. They are qualified to evaluate your mental health and offer guidance in alleviating any distressing symptoms. Many say that therapy therapies don't delve deeply enough into how problems in former relationships, experiences, or trauma may have impacted your present mental health.
However, therapists may employ a variety of guiding models in their work. Ask a counsellor how they would go about helping you if you were to work with them. With this information in hand, you'll be able to evaluate whether or not the opportunity is a good fit for you.
Therapeutic Procedures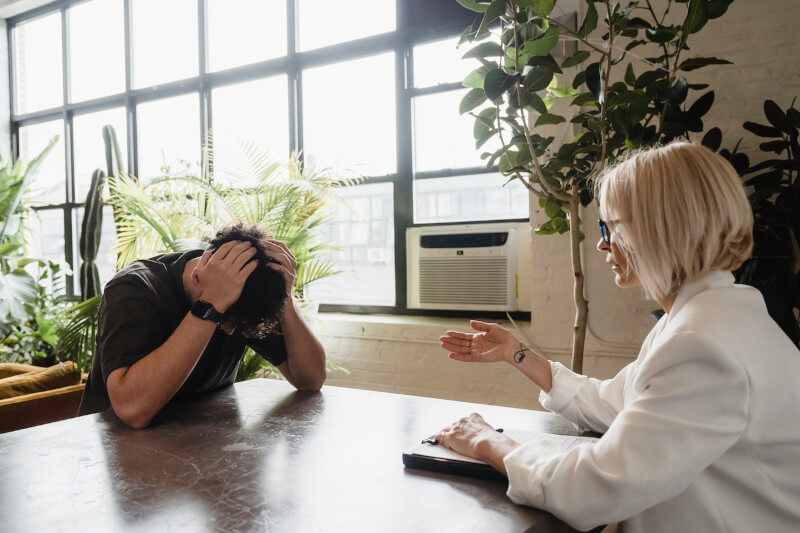 Therapists, like counsellors, aim to improve patients' emotional well-being by implementing a variety of techniques. Sessions of therapy can take place in:
Group treatment is where you and your loved ones meet individually yet participate as a unit
Frequently, therapists and counsellors address the same kinds of disorders. The National Institute of Mental Health lists the following conditions that can be helped with therapy:
Worries about loved ones' death or other losses
Difficulties in your personal or professional life
Depressive
Anxious
Manic-Depressive Disorders
Mental disorders, including post-traumatic stress disorder
Counsellors and therapists alike can receive specialised training in the art of talking it out. Expressing your concerns aloud can be a useful first step in finding a solution, which may involve a shift in perspective or approach. A viable approach is cognitive behavioural treatment (CBT). Therapy is intended to help you feel better and live a fuller life by reducing your symptoms. However, it is essential to inquire about the therapist's intended methods of treatment. Using this information, you can better determine which tactic will work best for you.
It has been said that therapists put more emphasis on studying human behaviour than counsellors do. However, this could be due more to the specific education and approach of the individual than to any systematic disparities between the fields. Counsellors may not be equipped to handle the more sophisticated difficulties that may require the expertise of certain therapists. However, there is often considerable overlap between the areas of expertise.
Qualifications
Counselor and therapist requirements are frequently context and specialty-specific. There could be regional variations in requirements in South Africa. Licensed therapists and counsellors must both finish training programmes leading to academic credentials (often master's degrees) and satisfy other licensing requirements (such as passing tests) before they may practise legally. Among the requirements for obtaining a licence to practise counselling are:
Go to an approved graduate school and get your master's degree in counselling.
Obtain 2,000 – 3,000 hours of training under supervision.
Take and pass a rigorous licencing examination
The following are required of all licenced therapists:
Get a graduate degree in therapy, preferably a master's or doctorate, from a recognised institution.
Spend between 1,500 and 3,000 hours in a supervised setting.
Take and pass a rigorous licencing examination
Factors to Think About
It's crucial to think about how well you and your potential mental health practitioner click before making a final decision. Find a service provider who has experience or expertise in the area where you need help. Each patient or client's level of ease with the practitioner should not be discounted, though. As a result, you get a better and more efficient experience. After the first few sessions, it is OK to seek services from a different provider.
Can You Help Me Decide Which Mental Health Profession Is Best for Me?
The degree of education, desired professional role, and desired remuneration may all play a factor in deciding between a profession as a counsellor, therapist, or psychologist. Employment prospects improve with continued education and training. Counsellors have the lowest median wages of the three professions, whereas psychologists have the highest.
Employment opportunities for counsellors are plentiful, allowing them to interact with a wide range of people. Therapists collaborate with other therapists in a variety of circumstances. Group practises and integrated health systems are only two examples of the many places a psychologist could find employment. The private practice of psychology and therapy is also pursued by many professionals. If you feel that a therapist is for you, visit Recovery Direct's page.
Unraveling the Rehab Funding Puzzle and Maximizing Medical Aid for Addiction Treatment – Discover insights into maximizing medical aid for addiction treatment and overcoming funding challenges.
The stats on drug addiction in South Africa: A comprehensive review of the current state of drug addiction in South Africa, backed by statistics.
Getting Back on Track: Exploring Lesser-Known Aspects of Overcoming Relapse – Explore lesser-known aspects of overcoming relapse and strategies for getting back on track in addiction recovery.